Julien Duvivier
craft becomes art.


Jean Renoir wrote in his memoirs: "If I were an architect and had to build a monument to cinema, I would place a statue of Duvivier above the front door. This great technician, this rigorous man, was a poet."
On Duvivier, Henri Jeanson said: "Julien Duvivier started at the Odeon Theatre, under the direction of Antoine. He kept something of it ... a love for work well done, a strong inclination for pessimistic endings, and for plain truth." Jean Gabin admitted: "I owe everything to two men. Duvivier for technique, Renoir for directing actors."
Michel Romanoff*, his assistant on many films, noted: "He was a man who could do anything. He could correct a set. If the director of photography was unable to work, he would replace him, and he would do so perfectly." Denise Morlot*, his faithful script-girl, noted: "He had an eye. He had an instinct for lenses. He would say: we put the camera there, we use the 30, or the 40, or the 75. He would never make a mistake."
Max Douy*, set designer: "His cutting was extraordinary. Everything was planned out. He was an incomparable technician."
Alekan*, the great cameraman: "He was better than many directors because of the precision of his technical cutting. It was done with such precision that we knew before, simply by reading the script, where we were going to put the camera, what lens we should use for a certain angle. I was working with a great master."
Michel Simon used to say: "With Duvivier, we knew where we were going." Louis Jouvet added: "Duvivier is a filmmaker who makes you want to shoot the next scene." Gérard Philipe revealed to the cinematographer Kelber, during the shooting of Pot Bouille, that he had rarely received such precise directions in so few words.
Danielle Delorme*: "Of all the directors I met, he was the one who gave the most guidance. I thought it was so great that you just had to let yourself go."
Dany Carel*: "He didn't give you many instructions, but he would tell you about the character. I thought it was great that he didn't give you any direction about intonation."
Jacques Robert, author of Marie Octobre, who worked with Duvivier for the film adaptation, noted: "The pure dramatic structure, how characters functioned, the dramatic rise were the things that interested him. He worked on all of this very closely and had a vigilant eye to push the paroxysms to the limit."
For Duvivier, to make a movie was first of all to tell a good story, with good actors and good technicians. He knew very well the particular status of film as both art and industry. He had been criticized in his own country for his eclecticism and lack of style. Julien Duvivier didn't have a style, he had style. He used to say: "I have the style of the movies I make."
Born on October 8th 1896, he directed, between 1919 and 1967, 67 films including 22 silent films. He wrote his screenplays himself, alone or in collaboration. He shot in France, Czechoslovakia, Germany, Italy, Great Britain, North Africa, and the United States. Although he was treated with condescension by certain French critics who reproached him for making popular films, it seemed to him the height of cunning. He was very popular abroad, and particularly appreciated by his peers, Orson Welles, Igmar Bergman, and Graham Green

* Extracts of interviews by Hubert Niogret for the film "The work of a director".
Julien Duvivier
Filmography


Haceldama or the Price of Blood (Haceldama ou le prix du sang), 1919;
Sunset of Horror (Crépuscule d'épouvante), 1919;
The Reincarnation of Serge Renaudier (La réincarnation de Serge Renaudier), 1920;
The Roquevillards (Les Roquevillard), 1922;
The Hurricane on the Mountain (L'ouragan sur la montagne), 1922;
The House of Horror (Le logis de l'horreur), 1922;
The Reflection of Claude Mercoeur (Le reflet de Claude Mercoeur), 1923;
Credo or the Tragedy of Lourdes (Credo ou la tragédie de Lourdes), 1924;
Fierce Hearts (Coeurs farouches), 1924;
The Machine to Redo Life (La machine à refaire la vie), 1924;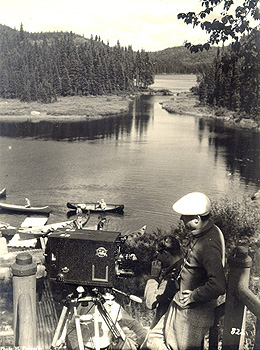 Maria Chapdelaine, 1934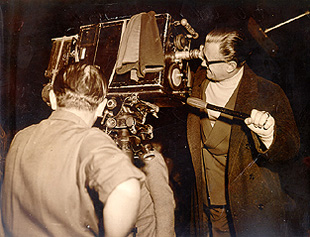 Henriette's Party, 1952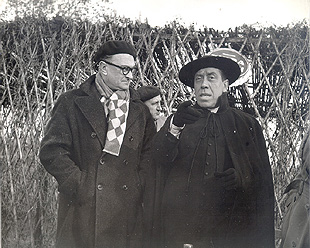 Duvivier et Fernandel in "The Return of Don Camillo", janvier 1953

The Immortal Work (L'oeuvre immortelle), 1924;
The Abbot Constantine (L'abbé Constantin), 1925;
Poil de carotte, 1925;
The Agony of Jerusalem (L'agonie de Jérusalem), 1926;
The Man with the Hispano Car (L'homme à l'hispano), 1926;
Miss Beulemans'Wedding (Le mariage de Mademoiselle Beulemans), 1927;
The Mystery of the Eiffel Tower (Le mystère de la tour Eiffel), 1927;
The Whirlpool of Paris (Le tourbillon de Paris), 1928;
The Miraculous Life of Therese Martin (La vie miraculeuse de Thérèse Martin), 1929;
The Divine Cruise (La divine croisière), 1929;
Mother Colobri (Maman Colibri), 1929;
For the Ladies' Leasure (Au bonheur des dames), 1930;
David Golder, 1931;
The Five Damned Gentlemen (Les cinq gentlemen maudits), 1932;
Hello Berlin? This is Paris! (Allô, Berlin ? Ici Paris!), 1932;
Poil de carotte, 1932;
The Head of a Man (La tête d'un homme), 1933;
The Machine to Redo Life (La machine à refaire la vie), 1933;
The Little King (Le petit roi), 1933;
The Steam Ship "Tenacity" (Le paquebot "Tenacity"), 1934;
Maria Chapdelaine, 1934;
Golgotha, 1935;
La Bandera, 1935;
The Man of the Day (L'homme du jour), 1936;
The Golem (Le Golem), 1936;
The Beautiful Team (La belle équipe), 1936;
Pepe-le-Moko, 1937;
A Dance Card (Un carnet de bal), 1937;
The Great Waltz (Toute la ville danse), 1939;
The End of the Day (Le fin du jour), 1939;
The Ghost Cart (La charrette fantôme), 1939;
Like Father and Son (Untel Père et fils), 1940;
Lydia, 1941;
Tales of Manhattan (Six destins), 1942;
Flesh and Fantasy (Obsessions), 1943;
The Impostor (L'imposteur), 1943;
Panic (Panique), 1946;
Anna Karenina (Anna Karénine), 1948;
In the Kingdom of Heaven (Au royaume des cieux), 1949;
Black Jack, 1950;
Under the Sky of Paris (Sous le ciel de Paris), 1951;
The Little World of Don Camillo (Le petit monde de Don Camillo), 1952;
Henriette's Party (La fête à Henriette), 1952;
The Return of Don Camillo (Le retour de Don Camillo), 1953;
The Maurizius Case (L'affaire Maurizius), 1954;
Marianne of my Youth (Marianne de ma jeunesse), 1955;
Now is the Time of Assassins (Voici le temps des assassins), 1956;
The Man with the Raincoat (L'homme à l'imperméable), 1957;
Pot-Bouille, 1957;
The Woman and the Puppet (La femme et le pantin), 1959;
Marie-Octobre, 1959;
The Big Life (La grande vie), 1960;
Boulevard, 1960;
The Blazing Bedroom (La chambre ardente), 1962;
The Devil and the Ten Commandments (Le Diable et les dix commandements), 1962;
Goose Bumps (Chair de poule), 1963;
Devilishly Yours (Diaboliquement vôtre), 1967.
Bienvenue | Les Membres | Les Statuts| Les Biographies