Alice Guy



(1873-1968)
Alice Guy Blaché was the first woman filmmaker and director.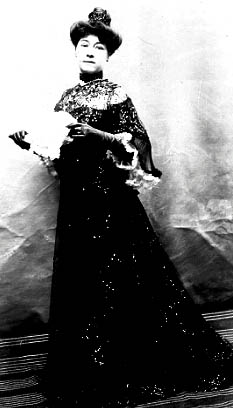 Mademoiselle Alice - 1907
She directed the Cabbage Fairy, in March 1896, considered to be the first ever fiction film by historians.
Hired as a secretary at 21, in December 1894, she rose within a few months to the post of director of Gaumont Film Productions. She not only directed but also supervised screenplays, castings, set designs and costumes. She hired Zecca, Cohl, Jasset, and Feuillade; in other words, she was in charge of the entire creative activity of Gaumont. Alice Guy met with all the important innovators of the time: Marey, Lumière, Demeny, as well as with Eiffel; she endeavored to put their discoveries into practice. She took advantage of mistakes made by her technicians, turning them into special effects: reverse shooting, fast motion, slow motion, masking and superimposition…
She adapted a novel and an opera for the screen, applied color to her films, and in 1902, used the Demeny chronophone technique to add sound.
Postcards, posters starting 1904.
In 1905, she inaugurated the Cité Elgé by shooting The Esmeralda there.
In 1906, she made her first full length feature film The Life of Christ, a big budget production for the time, which included 300 extras.
In 1907, she married the cameraman Herbert Blaché Bolton, went to the United States, had two babies, and created two companies "The Solax" and "The Film Supply Co.". She had two studios built, directed an acting company called "The Solax Stock". She hired some girls from the Ziegfeld Follies and soldiers from the American Army as extras. She used close-ups, animals (tigers, 200 rats), boat explosions, car chases. She shot in the Sing Sing prison, and each month, directed one feature film and about ten shorts.
We have counted more than 600 registered films : comical, adventure, western, fantasy, fantastic, suspense, opera, mystery, documentary, war films, historical drama; from shorts to feature films, from black and white to color, from silent to sound, from The Life of Christ to Edgar Allan Poe…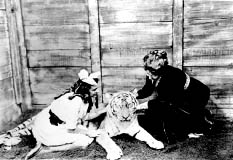 Madame Alice Guy Blaché
"It is odd to note that the Blachés, without planning it consciously, contributed to the creation and development of three famous American companies. The Film Supply Co., which became the Mutual, producer of the first big Chaplin films and Universal were both born from the break up of the Motion Pictures Distributing and Sales Co. The Metro Goldwyn Mayer, then still a modest New York company called the Metro Pictures, from its birth in March of 1915 until 1918, depended mostly on the distribution of films produced or directed by the Blachés. This was their modest and unconscious contribution to the development of a trust company." (Francis Lacassin, For a counter-history of cinema, p.42)
Alice's career ended in 1920. At this point, her films disappeared completely for more than 50 years only to reappear in 1972, four years after her death, a "Miracle of cinema". When she returned to Europe, under the pseudonym of Guy Allix, she wrote several tales for children


For more information you may contact :
"Les Amis d'Alice Guy Blaché" ("The Friends of Alice Guy Blaché")
PEETERS Thierry
8, rue des Pardenrières
04200 SISTERON
Tél. : 06 15 44 65 37
e-mail : mail.aliceguy@free.fr

Bibliographical References : (in French)
Autobiography of a pioneer of cinema (1873-1968)
Alice Guy. Presented by the Musidora Association (Nicole-Lise Bernheim/Claire Clouzot). Editions Denoël/Gonthier, Paris, 1976.
Alice Guy Blaché (1873-1968). The first woman filmmaker of the world. Victor Bachy. Institut Jean Vigo, 1993.
Women filmmakers or the triumph of will. Charles Ford. Editions Denoël/Gonthier, collection Femmes, Paris, 1972.
For a counter-history of cinema. Francis Lacassin. Institut Lumière/Actes Sud, 1994.

Documentary site Alice Guy
" Les Amis d'Alice GUY "
8, rue des Pardenrières
04200 SISTERON
Tél. : 06 15 44 65 37

Web sites on Alice Guy

How to find the films :
Bienvenue | Les Membres | Les Statuts| Les Biographies