Jean-Paul Paulin



Born in Paris, March 29th 1902.
Died in Paris, June 3rd 1976.

Director of eighteen feature films over exactly eighteen years, Jean-Paul Paulin remains, a quarter of a century after his disappearance, a relatively unknown filmmaker. Son of sculptor and friend of Auguste Renoir, Paul Paulin, some of whose work is shown at the Orsay Museum in Paris, young Jean-Paul could count among the visitors to his home Jean Renoir, his elder by eight years. Much later, it was thanks to Jean-Paul Paulin pulling the ropes that the author of The Rule of the Game obtained his visa for Hollywood.

Paulin was only thirty when, at the dawn of talkies and after several years of assistantship, he started directing with The Naked Woman in 1932, a remake Léonce Perret's 1926 silent version of Henri Bataille's play. A year later he directed Abbott Constantine a somewhat flawed film, saved by a cast including Léon Bélières, Pauline Carton, Claude Dauphin, Josselyne Gaël, Jean Martinelli, Françoise Rosay and Betty Stockfeld. In 1934 he signed No Need of Money , a parallel French version of the German film "Man braucht kein Geld". With The White Slave, shot in Abyssinia, Paulin was called in at the last moment to replace Dreyer who had written the script but was prevented from directing because of illness. During the shooting, Paulin supposedly met with Benito Mussolini.

Back in France, Paulin took on the direction of a thriller, a genre then very much in fashion, signing The Red Dancer, a now almost invisible film with about sixty names around its central star Véra Korène (1937). He then signed a number of other films in rapid succession, two of which are generally considered his masterpieces. The Girls of the Rhône, shot in the Camargue region in the south of France, using the local population in traditional costume as extras around a cast including Annie Ducaux, Denise Bosc, and Madeleine Sologne. The second major film Three from Saint-Cyr, is weakened by its tone of condescending colonialist propaganda, much in vogue at the time, but it benefits from detailed direction and very beautiful photography. It features Jean Mercanton in his first adult role, Jean Chevrier in his first lead role, and Jean Paredes in his very first screen appearance.

For Paulin the German occupation of France started with a film we might call "double-edged". A free adaptation of a nativity scene, transposed into a version of the exodus and the "phony war", The Wonderful Night was exalted by Vichy's Philippe Petain who considered it his favorite movie. This would turn out to be detrimental for Paulin after the liberation of France although his brand of patriotism had nothing in common with that of Marshal Petain's. In retrospect, passions having calmed down, this film should be revisited, the main reason being that it features some of France's favorite actors - who had consented to work for free - such as Fernandel, Charles Vanel, Janine Darcey and Madeleine Robinson.

Paulin's next film, Towards the Open Sea, also merits a second life. Shot on location in the small fishing village Gruéssant and in neighboring Marseille it features Gérard Landry, Mila Parely, Janine Darcey, and a crowd of locals . It was to be twenty-one-year-old Robert Lynen's last screen appearance : two years later he was shot down by a group belonging to the pro-German militia.

After The Man who Sold his Soul, a Faustian variation on a theme which had already been explored in The Hand of the Devil a year before (and in which, after Palau but before Michel Simon, Le Vigan plays the Mephistopheles of Modern Times), Paulin directed his unique costume period piece, set in the age of Louis XIV. The plot, was centered on the king's mistress, Madame de Maintenon and one of her protégées a the chic Saint Cyr girl's school. For unknown reasons, Check to the King, finished in 1943, would not be released until May 1945, after France was liberated.

The post-war period would see him direct rather disappointing films, with the exception of the curious Castle of the Last Chance (1946). Based on a screenplay and dialogues by Henri Troyat, the film takes place in the clinic of a mad scholar, played with great wit by Pierre Bertin.

The following films don't deserve much attention : after a couple of light comedies, custom-made for Pierre Louis (Three on a Trip, 1949; Sweet Madness, 1950), Paulin stopped directing altogether if one excepts two shorts, shot while he was dedicating himself to the production of a couple of films such as Paul Mesnier's Poil de carotte (1951) and Jean Boyer's I had seven daughters (1954) ... then he pulled down the curtain.

Bibliography


The Forgotten Ones of French cinema (Les Oubliés du cinéma français) by Claude Beylie and Philippe d'Hugues, Editions du Cerf, Paris.
Filmography


1932 The Naked Woman (La Femme nue) With Odette Florelle, Alice Field, Odette Talazac, Raymond Rouleau, Constant Rémy, Armand Bour, Paul Clerget, Maxime Fabert, Manuel de Garcin
1933 The Abbott Constantine (L'Abbé Constantin) With Léon Bélières, Françoise Rosay, Betty Stockfeld, Josselyne Gaël, Jean Martinelli, Claude Dauphin, Pauline Carton, Robert Moor, Anthony Gildès, Marcel Barnault, Georges André-Martin
1933 No Need of Money (Pas besoin d'argent) With Claude Dauphin, Lisette Lanvin, Jeanne Lion, Riri Bouché, Made Sylvère, Teddy Dargy, Gaston Gabaroche, Gaston Mauger, Alex Bernard, Georges Cahuzac
1936 The White Slave (L'Esclave blanc) With Georges Rigaud, Jane Ferney, Luisa Garyl, Egisto Olivieri
1937 The Red Dancer / The Goat with Golden Feet (La Danseuse rouge / La Chèvre aux pieds d'or) With Véra Korène, Paul Amiot, Lionel Artigas, Charlotte Barbier-Krauss, Maurice Bénard, Jacques Berlioz, Marcel Chabrier, Pierre Clarel, Maurice Devienne, Marfa Dhervilly, Jacques Erwin, Maurice Escande, Maxime Fabert, Jean Fay, Ernest Ferny, Pierre Finaly, Max Fontal, Jean Galland, René Génin, Germaine Gerlatta, Enrico Glori, Jeanne Helbling, Jacques Henley, Pierre Juvenet, Margo Lion, Jeanne Marie-Laurent, Jean Martinelli, Albert Montigny, Robert Moor, Henriette Moret, Marguerite de Morlaye, Georges Paulais, Suzanne Révonne, Jacques Roussel, Jean Toulout, Youca Troubetzkol, André Varennes, Génia Vaury, Robert Vidalin, Victor Vina, Suzy Willy, Jean Worms
1937 The Girls from the Rhône (Les Filles du Rhône) With Annie Ducaux, Denise Bosc, Nane Germon, Andrée Berty, Madeleine Sologne, Daniel Lecourtois, Alexandre Rignault, Pierre Larquay, Paul Escoffier, Maurice Rémy, Antoine Arnaudy, Charles Blavette, Teddy Parent, André Nicolle
1938 Three of Saint-Cyr (Trois de Saint-Cyr) With Hélène Perdrière, Roland Toutain, Jean Mercanton, Jean Chevrier, Paul Amiot, Jean Worms, Léon Bélières, Jean Fay, Jean Parédès, Michel Marsay, Chukry-Bey, Colette Régis, Marfa Dhervilly, Hélène Helly, Jacques Vitry, Paul Escoffier
1939 The Path of Honor (Le Chemin de l'honneur) With Renée Saint-Cyr, Henri Garat, Marcelle Géniat, Pierre Brasseur, André Lefaur, Constant Rémy, René Bergeron, Fernand Charpin, Roland Toutain, Jeanne Fusier-Gir, Mady Berry, Georges Paulais, Philippe Richard, Edy Debray, Paul Escoffier, Marcel Chabrier, Rivers Cadet, Jean Poc, Jean-Louis Allibert, Jean-François Martial
1940 The Wonderful Night (La Nuit merveilleuse) With Fernandel, Charles Vanel, Madeleine Robinson, Janine Darcey, Jean Daurand, Jean Aquistapace, Fernand Charpin, Edouard Delmont, Jacques Erwin, René Fleur, Charlotte Clasis, Milly Mathis, Jeanne Marken, Wanny, Couty Bonneval
1942 Towards the Open Sea (Cap au large) With Antonin Berval, Edouard Delmont, Janine Darcey, Mila Parély, Gérard Landry, Robert Lynen, Milly Mathis, Henri Poupon, Henri Arius, Lucien Hubert
1943 The Man who Sold his Soul (L'Homme qui vendit son âme) With Michèle Afra, André Luguet, Pierre Larquey, Robert Le Vigan, Mona Goya, Jean Périer, Georges Colin, Jean-Jacques Delbo, Raymond Raynal, Henry Charrett, Guita Karen, Renée Thorel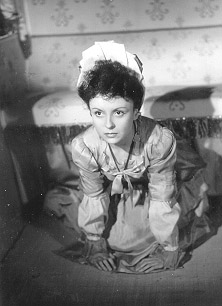 "Check to the King" (1943)
1943 Check to the King (Echec au Roi) With Odette Joyeux, Gabrielle Dorziat, Georges Marchal, Lucien Baroux, Maurice Escande, Jacques Varennes, Madeleine Rousset, Jacqueline Ferrière, Maud Lamy, Catherine Morgate, Sylvie Noëlle, Françoise Delille, Lucienne Laurence, Monique Manuel, Vera Norman, Catherine Romane, Jacques Berlioz, André Carnège, Henry Charrett, Jean Coste, Gustave Gallet, Raymond Raynal
1946 Sybille's Night (La Nuit de Sybille) With Lucien Baroux, Pierre Larquey, Daniel Gélin, Paulette Elambert, Odette Barencey, Manuel Gary, Defresne
1946 The Castle of the Last chance (Le Château de la dernière chance) With Robert Dhéry, Jean Marchat, Nathalie Nattier, Corinne Calvet, Pierre Bertin, Julien Carette, Marguerite Pierry, Luce Fabiole, Odette Talazac, Yvonne Yma, Mireille Ozy, Albert Michel, Jacques Sommet, Guy Rivière, Frédéric Mariotti, Danièle Franconville
1948 The Voice of the Dream (La Voix du rêve) With Renée Saint-Cyr, Marcel Pagliero, Jean Chevrier, France Descaut, Marina de Berg, Jeanne Fusier- Gir, Lilian Carpentier, Georges Galley, Mireille Ozy
1948 The Unknown Lady Number 13 (L'Inconnue n°13) With René Dary, Marcelle Derrien, Pierre Louis, Mady Berry, Janine Miller, Robert Lussac, René Hell, Paul Villé, Jean Nossereau, Jean Gosselin, Paulette Andrieux, Maurice Pierrat, Christian Fourcade, Nicolas Amato, Michèle Brabo, Lyne Carrel, Jacqueline Clément, Henri Coutet, Marcelle Féry, Guy Fournier
1949 Three on a Trip (Voyage à trois) With Pierre Louis, Janette Batti, Jacques Morel, Maria Riquelme, Robert Lussac, Nicolas Amato, Jean Gosselin
1950 Sweet Madness (Folie douce) With Pierre Louis, Lisette Jambel, André Gabriello, Marthe Mercadier, Christine Carère, Michel Nastorg, Frédéric Duvallès, Anna Beressi, Maxime Fabert, Robert Lussac, Robert Le Fort, René Hell, José Casa, Jean Marvil, Olga Abadanche, France Gabriel, Suzanne Gabriello, Colette Régis.

Bienvenue | Les Membres | Les Statuts| Les Biographies