Emile Reynaud



Born December 8, 1844 in Montreuil-sous-Bois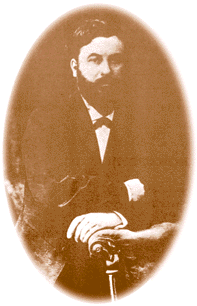 Reynaud's life choices were heavily determined by his parents' influence and education. His father, who was a watchmaker and medal engraver, taught him precision mechanics among other things. His mother, a schoolteacher, was a fervent admirer of Jean-Jacques Rousseau and his educational principles; a former student of the flower painter Redouté, she also painted watercolors. Emile owes his first name, his sketching, and painting talents to his mother. He did not go to school, as his parents took charge of his education. Everything was a pretext for learning, both in nature and at home. Only one principle applied: to learn while having fun. Emile followed this method himself as an adult. This education taught the child solid notions of botanical science, zoology, astronomy, physics, etc.
After his father's death, Emile left Paris with his mother and settled down in Puy-en-Velay. Here, in the voluminous library of his uncle, a surgeon, he perfected his knowledge: anatomy, physiology, and other medical sciences, as well as Greek and Latin.
He became a professor at Ecoles Industrielles du Puy and taught physics and natural sciences from 1873 to 1877.
His lectures took place in the evening in a city hall classroom and they were open to the public. He used an overhead projector to illustrate what he was saying in a clear and pleasant manner.
In 1876, he finished his first invention, the "praxinoscope," which he licensed in 1877.
That optical instrument created the illusion of movement. It consisted of a central cage with 12 mirrors and a metal drum, within which was inserted a cartoon strip that represented 12 frames of a subject or a landscape in movement. By rotating the drum very quickly, and by watching the image reflected in the mirrors, it was possible to see a smoothly animated sequence. It was a little performance that several people could watch at the same time. They could admire the finesse and artistic value of the drawings which were all created and hand painted by Emile Reynaud. The advantage of this instrument compared with previous inventions was the neatness, clarity, and contrast enhancement of the pictures.
Then Reynaud went back to Paris in order to commercialize his invention. It sold very well in the big department stores (Bon Marché, Louvre, etc.).
Meanwhile, he pursued his research to perfect the praxinoscope. In 1879, he created the theater praxinoscope. The subjects, still on a cartoon strip of 12 frames, but set on a black background, moved on a fixed stage.
In 1880, he invented the projection praxinoscope. The principle remained the same, but Emile Reynaud added a lantern that enabled him to project his skits onto a screen. Thus, they were visible to a broader viewing audience. The characters were drawn on glass plates that were linked by pieces of fabric; the strips still contained only 12 frames.
In 1889, he again perfected his instrument. The optical theater was a big praxinoscope that enabled him to project an indefinitely long strip-the true precursor to film. Those mobile strips were perforated at regular intervals, reeling off one roll onto another.
An accomplished artist, Emile Reynaud, drew and hand painted his pictures one by one on film paper, which amounted to an average of 500 to 600 frames per strip. He finally reached his objective which was to present a true performance in front of a numerous viewing audience.
On October 28, 1892, three years before the invention of cinema, Emile Reynaud projected the first cartoons ever in front of a mesmerized audience at the Musée Grévin. At that time, they were called luminous pantomimes. The program included "Pauvre Pierrot," "Un Bon Bock," and "Clown et ses Chiens." The inventor was both script writer and projectionist. He was accompanied at the piano by Gaston Paulin who wrote a specific musical score for each pantomime.
That permanent performance remained on the program of the Grévin Museum until 1900. By then, more than 500,000 people had seen and applauded it.
Emile Reynaud returned to his beloved praxinoscopes and to his research, but he had lost most of his enthusiasm. In 1907 he perfected another derivative of the praxinoscope, the stereo-cinema, that enabled viewers to see a three-dimensional animation of photographic strips.
He died completely forgotten at Ivry-sur-Seine on January 9, 1918.
Sylvie Saerens
Great grand-daughter of Emile Reynaud
(Chevilly-Larue, October 1997)


Important Dates:
1844 Birth at Montreuil-sous-Bois on December 8th.
1873-1877 Professor of Physics and Natural Sciences at Puy-en-Velay
1877 Praxinoscope
1879 Praxinoscope theater
1880 Projection Praxinoscope
1889 Optical Theater
1892 Premier of the illuminated Pantomimes at the Grévin Museum on October 28th.
1896 "Photo-scénographe" (animated photo painting)
1900 Last of the luminous Pantomimes at the Grévin Museum (February 28)
1902/1907 Invention of the "Stéréocinéma"
1918 Died on Janury 9th in Ivry-sur-Seine