Albert CAPELLANI



French film-maker, producer, and scriptwriter (1874-1931)
After studying the dramatic art with Le Bargy at the Paris conservatory, Albert Capellani began his artistic career as a theater actor. His organizational skills led him to become the stage manager of Firmin Gémier, then later the administrator of the Alhambra Music Hall in 1903. Convinced that cinematography had a future, he joined the profession as a director with Pathé-Frères under Ferdinand Zecca in 1905. Charles Pathé appointed him artistic director of a new company he just had created, la Société Cinématographique des Auteurs et Gens de Lettres (S.C.A.G.L.); the goal of the company was to bring prestigious works of French literature to the screen.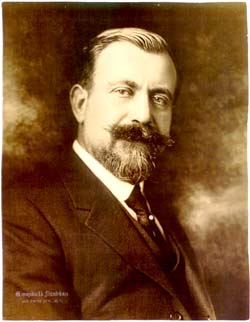 Albert Capellani was endowed with a strong personality and formidable stamina. A masterful organizer and above all an artist, he supervised and counseled directors such as George Denola, Georges Monca, Michel Carré, Henri Estievant, amongst others.
Through his personal direction of a great number of short and medium-length films, he became the forerunner of full-length films with "Le Chevalier de Maison Rouge"; "La Glu"; "Notre-dame de Paris"; "Le Courrier de Lyon"; "Germinal"; "Les Mystères de Paris"; "Quatre-vingt treize"; and, of course "Les Misérables"-a universally recognized work of art, which brought Pathé and its director to the height of its fame.
In his search for new talent, Capellani brought to the screen a number of theater actors, like his brother Paul Capellani, Berte Bovy, Jacques Grétillat, Henri Krauss, and others. In addition, he drove Mistinguett to the screen in her first major role in "Les Misérables." The famous music-hall dancer thus confirmed her talent as an actress.
When France entering the war in 1914 hampered Pathé's activities. Albert Capellali was then sent to the United States where his films were well known and continued his work as artistic director within the small community of French film-makers who had already relocated to the United States.
After producing films for a number of companies such as Pathé Exchange, Metro Picture Corporation, World Film Corporation Empire, Cosmopolitan, Nazimova Production, etc. Albert Capellani became an independant film-maker with Capellani Production, Inc. He carried the tragic actress Nazimova to her highest triumph, making her as one of the greatest stars of American cinema.
Back to France in 1921, he tried in vain to launch a French-American co-production project, then pursued his career in the United States. He returned to France for a respite in 1923. still working on new projects, inspired by the efficiency of American film-making methods. However, as his health keep worsening, he never returned to the Srates and died of a serious ilness at the age of 57.
Capellani passed away from a serious illness at the age of 57. Indefatigable and passionate innovator, the film-maker left behind a considerable collection of burlesque and fantasy movies, literary adaptations, and sociological documentaries.
Albert Capellani will undoubtedly be remembered as one of the great masters of early cinema.

Albert CAPELLANI Filmography



Films produced in France

1905
Le Chemineau
1906
L'Age du Cœur, Drame Passionnel, La Femme du Lutteur, La fille du Sonneur, La Loi du Pardon, Mortelle Idylle, Pauvre Mère, La Voix de la Conscience, La Peine du Tallion, Aladin ou la Lampe Merveilleuse.
1907
Amour d'Esclave, La fille du Bûcheron, La Légende de Polichinelle, Not'fanfare Concourt, Le Pied de Mouton, Cendrillon ou la Pantoufle Merveilleuse, Les Apprentissages de Boireau, Les Deux Sœurs.
1908
L'Arlésienne, Le Lépreux de la Cité d'Aoste, Béatrix Cenci, La Belle et la Bête, Benvenuto Cellini, Le Chat Botté, Don Juan, Guillaume Tell, l'Homme aux Gants Blancs, Le Petit Poucet, Salomé, Le Trouvère, La Vestale, Riquet à la Houppe, La Dernière Charette, Tarquin le Superbe, Sous la Terreur, Le Corso Tragique ou les 3 Masques, Le Foulard Merveilleux, Sanson, La belle au Bois Dormant, Marie Stuart, Athalie, Peau d'Âne
1909
Jeanne d'Arc, Le Roi s'amuse, Lucrèce Borgia, La Mort de Lincoln, La Mort du Duc d'Enghien, La Peau de Chagrin, Les Deux Orphelines, Le Tyran de Jérusalem, La Rançon du Roi, Le Luthier de Crémone, Fleur de Pavé, L'Assommoir.
1910
L'Autre ou un Drame en Wagon, Fra Diavolo, La Bouteille de Lait, Le Coucher d'une Etoile, Cyrano et d'Assoucy, L'Echarpe, L'Intrigante, Marie Stuart, L'Evadé des Tuileries, Fâcheuse Méprise, Francesca da Rimini, La Haine, Hernani, L'image, La Joconde, Messaline, Le Monstre, Le Portrait, Pour l'Honneur, Prix de Vertu, Le Roman d'un Jour, Un Clair de Lune sous Richelieu, Victime de l'Amour, Le Vol, La Zingara, Paganini, Trahis, La Savelli, Le Rêve Interdit, Le Voile du Bonheur, Sous la Terreur, La Victime de Sophie, La Vengeance de la Morte, La Mariée du Chateau Maudit, La Puissance du Souvenir, Le Complice, Le Spoliateur
1911
Le Courrier de Lyon ou l'Attaque de la Malle-Poste, Le Rideau Noir, Les Aventures de Cyrano de Bergerac, La Danseuse de Siva, Les Deux Collègues, L'Envieuse, La Fille des Chiffonniers, Jacintha la Cabaretière, Madame Tallien, Notre-Dame-de-Paris, La Poupée Brisée, Tristan et Yseut, Un Monsieur qui a un Tic, La Vagabonde, La Vengeance de Licinius, L'Intrigante, Quantin Durward, Le Nabot, Le Pain des Petits Oiseaux, La Poupée de l'Orpheline, Les Deux Chemins, L'Epouvante, La Mauvaise Intention, Le Prix de Vertu, La Fin de Robespierre ou 9 Termidor An II, Le Roman d'un Jour, Le Vol, L'image, L'institutrice, Le Portrait, Une Journée de la Révolution, L'Echarpe, Les Deux Soeurs, L'Oiseau s'envole, La vision de frère Benois, Deux Filles d'Espagne, Le Visiteur, Robert Bruce Episodes des guerres d'Indépendances Ecossaise, Les six Petits Tambourgs(1794), Le Sacrifice, Le Mémorial de St Hélène, Rabenstens, Gribouille a Volé La Joconde, Le Congré des Maires, Rigadin Comédien, Le Roman de La Momie, Par Respect de l'Enfant, L'Intrigante, La Victime de Sophie, Péché de Jeunesse.
1912
Anna Karénine, Le Signalement, Les Etapes de l'Amour, La Folle de Pen'March, Manon Lescaut, Marion de Lorme, Les Misérables, La Tour de Nesle, Un Amour de la Du Barry, Un tragique Amour de Mona Lisa, Les Mystères de Paris, Le Congrès des Balayeurs, La Bohème, Josette.

1913
L'Absent, Germinal, La Glu, Rêve Interdit, Le Signalement, Le Nabab, La Guerre du Feu, La Maison du Baigneur, Quatre-vingt-treize(shooting).
1914
Le Chevalier de Maison Rouge, Les Deux Gosses, Le Modèle, Patrie, Etenel Amour, La Belle Limonadière.
1917
Release Marie Tudor and Patrie.
1921
Release Quatre-vingt- treize (completed by Antoine)

Bibliography for French films:
Bousquet, Henri. "Catalogues Pathé des années 1896 à 1914"
Chirat, Raymond and Le Roy, Eric. "Catalogue des films français de fiction 1908 à 1918"
Ford, Charles. "Albert Capellani précurseur méconnu"

Films produced in the United States:
1915
Camille, The Face in the Moonlight, The Flash of the Esmerald, The Inspector.
1916
The Common Law , The Dark Silence, The Feast of Life, The Foolish Virgin, La Bohème.
1917
American Maid, The Easiest Way, The Richest Girl, Daybreak.
1918
Eye for Eye, The House of Mirth, Social Hypocrites.
1919
A Damsell in Distress, The Love Cheat, Oh Boy !, Out of the Fog, The Parisian Tigress, The Red Lantern, The Virtuous Model.
1920
The Fortune Teller.
1921
The Inside of the Cup, The Wild Goose.
1922
Sisters, The Young Diana.

American film bibliography:
The American Film Institute Catalog.

Author's note (Basset-Capellani)
The list of films is not exhaustive. Dates and titles of certain pieces of footage could be modified by forthcoming research.
Photo: CAPELLANI, Albert 1920 - BASSET-CAPELLANI, Bernard COLLECTION
Bienvenue | Les Membres | Les Statuts| Les Biographies